Book an Appointment
We are thrilled that you have taken the first step towards prioritizing your hearing health. At SOUNDLIFE, we are committed to providing a reliable and professional hearing care services using international best practices, so you can rediscover the joy of hearing again.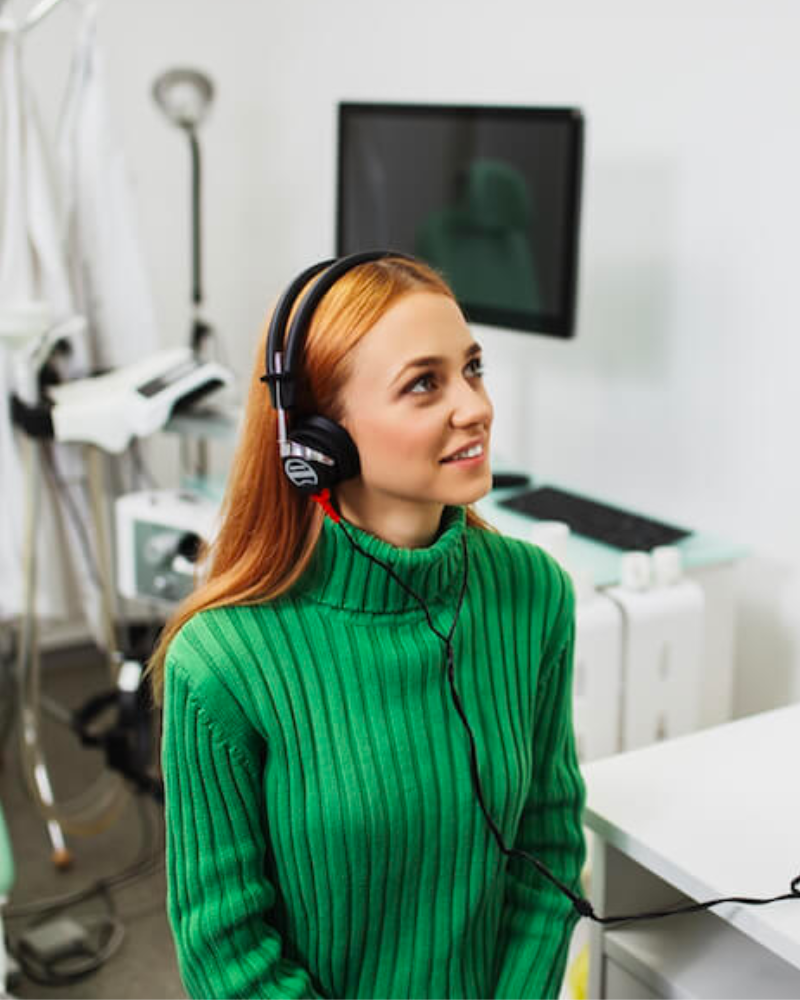 Would you like a FREE hearing test?
If you have not been diagnosed with hearing loss but feel that you might be experiencing from one, start your journey to a better hearing with our FREE hearing assessment. No purchase obligation.
Book an Appointment
10 Days Risk-Free Trial

Test-drive our hearing aids for 10 days, with no obligation to purchase. Try them at listening situations where you have trouble following conversations. If you aren't 100% satisfied with your improved hearing, you can try another pair or return them for a full refund.

FREE Hearing Assessments

Our hearing care professionals will take you through a series of hearing tests to understand your current hearing condition. After a thorough analysis, we will take you to understand the challenges you are facing and explain how we can help you hear better.

1+ Tahun Garansi Pabrik

Hearing aids are small, fragile and expensive. That's why every hearing aid sold at SOUNDLIFE comes with a Manufacturer's warranty period of one year. You have the option to purchase an extended warranty if it is available for your hearing aids.
What Our Customers Say



Ever since my mom got her hearing aids from SOUNDLIFE, our lives have changed for the better. Now she can actively participate in conversations, hear my stories, and enjoy music with me. I'm proud of her for taking the steps to improve her hearing, and I'm grateful to SOUNDLIFE for providing such effective and reliable hearing aids.

Anita Permata, Marketing Director
Thanks to the rechargeable RIE hearing aids from SOUNDLIFE Hearing Center, I can engage with clients effortlessly, whether in person or online. The seamless connectivity allows me to have crystal-clear conversations, ensuring that no important details are missed.

Indra Kumala, Banker
My mom's hearing aids from SOUNDLIFE have been a game-changer. She can now actively participate in family activities, hear my jokes, and even enjoy phone conversations. The quality and performance of SOUNDLIFE hearing aids are outstanding, and they have made a significant difference in my mom's life. Thank you, SOUNDLIFE, for bringing back the joy of hearing to our family.

Siska Putri, Interior Designer
We have witnessed a tremendous transformation in our child's confidence and communication skills. They are excellent at school and participate actively in social activities. SOUNDLIFE's commitment to our child's success is evident in every interaction we have had with them. Thank you, SOUNDLIFE, for helping our children reach their full potential.

Delon & Maya Saputra, Business Owners
Since getting the rechargeable RIC hearing aids from SOUNDLIFE, I have experienced a remarkable improvement in my ability to interact with clients, both in person and online. The seamless connectivity and crystal-clear sound quality have transformed my professional interactions, ensuring that I can effectively convey my ideas and understand client needs. I'm extremely satisfied with my hearing aids from SOUNDLIFE, I wholeheartedly recommend them to anyone seeking a reliable hearing solution.

Dewi Perdana, Tax Consultant
I am grateful to SOUNDLIFE for providing me with hearing aids that have truly transformed my professional life. I can now engage with my students and colleagues with utmost clarity, both in person and during online meetings. The seamless connectivity and exceptional sound quality have revolutionized my ability to convey complex concepts and facilitate meaningful discussions. Thank you, SOUNDLIFE for bringing back the sounds of life.

Dr. Selamat Riyadi, University Professor
I couldn't be happier with my decision of buying from SOUNDLIFE. These hearing aids have transformed my professional life, allowing me to effortlessly connect and communicate with clients and colleagues. The seamless Bluetooth streaming capability has made it easier for me to participate in conference calls and stay connected on the go. The rechargeable feature is incredibly convenient, ensuring that I never run out of power during crucial moments. Thank you, SOUNDLIFE, for enhancing my hearing experience and empowering me in my legal career.

Andre Wirawan, Lawyer
As a musician, my hearing is crucial to my passion and career. SOUNDLIFE's hearing aids have provided me with exceptional clarity and fidelity. I can now appreciate the nuances of music like never before. These devices have exceeded my expectations and I wholeheartedly recommend SOUNDLIFE for their remarkable hearing aids.

Yulia Kusuma, Musician
We can't thank SOUNDLIFE enough for the positive impact they have had on our child's life. Their team of professionals took the time to understand our child's unique needs and provided them with the perfect hearing aids. Our child's speech and language development have improved significantly, and they are now thriving academically. We are forever grateful to SOUNDLIFE for their dedication and expertise.

Hadi & Lisa Setiawan, Restaurateurs
Thanks to my mom's hearing aids from SOUNDLIFE, we can connect on a deeper level. She can actively participate in family activities and enjoy social gatherings. SOUNDLIFE has provided a reliable and effective solution for her hearing loss, and I'm grateful for the positive impact it has made on our family's life.

Desi Utami, Business Owner
Try It Before You Buy!
We have a variety of hearing devices to cater to different hearing needs, budgets and lifestyles. Moreover, at SOUNDLIFE, you can try it at home or at work for 10 days before you buy.
Book an Appointment